More 45th Anniversary Photos
Conference!
The Communities Conference is a networking and learning opportunity for anyone interested or involved in co-operative or communal lifestyles.

Join us for a weekend of sharing and celebration!
Labor Day Weekend
Friday, August 31 through
Sunday, September 3, 2012
$85 (sliding scale) includes camping space and most meals.
Twin Oaks Communities Conference
138 Twin Oaks Road, Louisa, VA 23093
540-894-5126
Communities
Conference.org
Click Here to Register!

Please visit our sister organization:

FEC Communities
Acorn Community


Founded: 1993
Location: rural Virginia
Population: 24 adults
A consensus based community of work and play, distributing rare heirloom seed varieties.
East Wind


Founded: 1973
Location: rural Missouri
Population: 60 adults, 4 children
Doing things ourselves, individual freedom, stewarding our beautiful land.
Emma Goldman Finishing School


Founded: 1996
Location: urban Seattle
Population: 10 adults
A social justice commune in the heart of Seattle.
The Midden


Founded: 2008
Location: Columbus, Ohio
Population: 7 adults
A small yet established anti-authoritarian and egalitarian urban community.
Sandhill Farm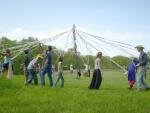 Founded: 1974
Location: rural Missouri
Pop: 7 adults, 2 children
Organic homestead & child-friendly family of friends. Local and regional outreach projects.
Twin Oaks


Founded: 1967
Location: rural Virginia
Population: 90 adults, 13 children
A long-term, stable community based on rich culture and diverse economy.
Communities in Dialogue
Living Energy Farm


Approved: 01/08/2011
Founded: 2010
Location: rural Virginia
Population: 4 adults
A growing fossil fuel free Community, Farm, and Education Center.
Dirt and Dreams is the E-mail Newsletter of the FEC. Dirt and Dreams will bring to you news about our communities, articles about our values, and clips of our art and culture.
Sign Up Now!
Who's online
There are currently 0 users and 10 guests online.